Angel
The Charlatans front man Tim Burgess on self publishing, big decisions and being rescued by Ice T.
Here I interview The Charlatans lead singer, superstar DJ and style icon Tim Burgess. And I also got a special invite around his UK studio, where Tim told me more about how his band The Charlatans, and how they rose from tragedy to become an international success. Tim also explained how self publishing their music has resulted in some of their most satisfying creative work.
Main photo and above, The Charlatans performing at Ben and Jerry's festival photo by Jimmy James
The Charlatans have had three number one albums plus four, top ten singles. Tim's added his vocals to songs by bands such as The Chemical Brothers and Mark Ronson he's also friends with The Rolling Stones, and supported the band as a solo artist.
The Charlatans photo by Jimmy James
Life changing decisions
Angel: The Charlatans have been going since 1988/89 and have released twelve studio albums, that's a long time in the music industry, have there been any major decisions that have contributed towards your success?
Tim: The biggest decision we've ever had to make was after Rob Collins [our former keyboard player] died. A friend of ours Jeff Barrett who runs Heavenly Records was doing our press and I telephoned him to say we couldn't perform with Oasis at Knebworth, as it was two days after Rob's funeral. Jeff said "No, you've got to do it" and I said "How, we don't have enough people?", and he told me flat out "You've got to do it, or that's it, the bands finished".
Tim: It was excellent advice and Bobby Gillespie (lead singer with Primal Scream) offered us Martin Duffy (their keyboard player) for the night and he ended up joining the band for 6 months. It was amazing, but also crazy because, on the one hand, we had lost our best mate and he was a really important part of the band, however, Duffy coming in and helping us through the next 6 months was a real blessing.
Tim performing in Manchester, photo by Nicky McGowan
Angel: It was very compassionate of Bobby to help you out. You guys made another big decision at the beginning of your career to publish your first single yourselves, why did you decide to go down that route?
Tim: It was early on and we'd done a demo tape and we tried to get a deal but no one was really coming forward, so we put it out ourselves. Our Manager's sister put up the money to get the single out. We were suppose to sell a thousand copies but we ended up selling fifteen thousand, so she got her money back and we got to buy a van.
This was all part of the Manchester scene and a lot of people started showing an interest in us because we had a DIY record out, so the majors were interested as well as a few independent labels. But we chose a record label called Beggars Banquet because they seemed like the people who could actually do it for us. We wanted to be able to sell records all over the world, they could do that, but they were still small enough to actually let us do things the way we wanted to do them, so it was a wise choice really.
Angel: So you signed with Beggars Banquet because you could do things your way. What were the benefits of working with a record label?
Tim: For me it was amazing because we used a guy called Chris Nagle who was the engineer for all the Joy Division records and the first New Order album and a lot of Factory Records stuff. He was Martin Hannett's right hand guy and Martin was a legendary producer in Manchester. It was a beautiful experience, we went to Strawberry Studios in Stockport to record "Indian Rope". That's the studios where Joy Division recorded their debut album "Unknown Pleasures" and it's famously owned by 10CC so it was a great experience.
Angel: Chris Nagle was obviously very talented and had worked with some outstanding bands, what was it like working with him?
He would come down to check us out in our rehearsal and stuff like that, generally he was a really great guy with a lot more experience than we had, so we were really happy, he gave us a good sound, it sounded like a first record at the time we were doing it, but I didn't think we could ever top it, I thought it was the best record I'd ever heard.
Tim performing in Manchester, photo by Nickie McGowan
Angel: It sounds like a very positive experience. A lot of people struggle publishing their work in the early stages of their career. Do you ever have any doubts when you're putting out new material?
Tim: I think I've got good taste, I can get this weird feeling right inside and it comes from my stomach and it tells me its good. I follow it through the best way I can. I think I'm probably doing that even better these days, it doesn't have to be a perfect recording, or a brilliant vocal take, it's all about the vibe and the emotion you get from it. That's when I don't care what anyone says because I've put my heart and soul into it, I feel proud of it.
Angel: "Indian Rope" was a big hit along with a lot of other tracks you released through Beggars Banquet so why did you change labels?
Tim: Well, we were actually on Beggars Banquet for quite a long time, that was probably the most successful period, we had three number one albums and we did 6 with them in total. But at the time we felt like a change of scene, its like a relationship with somebody for six years, you think "oh my god do I need something new" and you start to assess the situation and see where to go next.
Photoshoot at The Charlatans recording studio, photo by Nickie McGowan
Tim: So Universal were interested and the first record we did with them was really good, it was a massive hit, then it went downhill from there. The second album with them was "Wonderland" and in my opinion, its not the best record we've ever done. Universal were freaked out because we were doing it all ourselves, our own way, in LA, with a producer that we wanted and they didn't have a say.
So they gave up on us, but they didn't want to let us go either. It was frustrating being on a label that wouldn't let us go to anybody else but didn't want to do anything with us themselves. So we just made a crap record, even though we thought we were being smart, the public thought we'd lost it.
Angel: How much influence does the record company have over the decision making?
Tim: It's a relationship, so its give and take. They'll suggest what they want and you'll suggest what you want. You can never get your own way all the time. However, now we're not tied to a label we're just in a relationship with ourselves so we make all, the decisions. It;s great!
Angel: Let's talk about your gigs, can you remember your first performance?
Tim Yes it was in the corner of a room in a local club, but it was a good experience, we managed to get a projector with visuals. I was into a lot of the stuff from Manchester, it was quite psychedelic, I was really into early Pink Floyd and Jimmy Hendricks. So we had a screen and some weird psychedelic stuff going on in the background, we carried that theme on for quite a while, that separated us from everyone else.
Illustration by Toby Whitebread
Angel: What about on a larger scale, do you remember your first festival?
Tim: Yes I do, Ian Astbury from The Cult had started this thing called "A Gathering of the Tribes" this was pre "Lollapalooza". We'd never been to America before and our first two gigs were held at the Shoreline Amphitheater San Francisco and the Pacific Amphitheater in Costa Mesa.
We'd probably only done twenty gigs in our lives. Ian Astbury was on the Beggars Banquet label and The Cult were massive in America, so they put on these two gigs with them headlining and we were on with Ice T, Iggy Pop, The Cramps, Soundgarden, Queen Latifah and Public Enemy. Ice T and The Cult on the same bill it was like the first multi-cultural concert in America. We just wanted people to hear our music. We had a forty minute slot and we were going over minute by minute, because we had a long song at the end. I remember John getting dragged off his stool and the whole fucking security getting really heavy on us, right then Ice T stepped in and said if you get anymore shit I'll have my people take care of it, we must have looked like some sweet innocent kids, it was really crazy.
Illustration by Toby Whitebread
Angel: Maybe Ice T should have renamed his band Bodyguard instead of Body Count? Despite being sweet and innocent looking, you must have attracted some attention playing to such big crowds, how long did it take before The Charlatans became really successful in your eyes?
Tim: Success is a really weird thing really, it's difficult to tell, I mean I only think we're in a successful period right now, because it feels good. As far as selling records and playing to big crowds we've done all that, but then there's also been stages of ups and downs, it's been kinda like a roller coaster ride.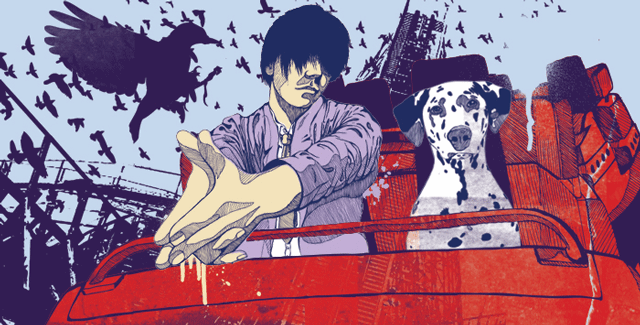 Illustration by Toby Whitebread
Angel: What have you been most proud of?
Tim: I'm really proud of what what we did with XFM (Radio Station) where we allowed people to download our music for free. We keep getting mentioned in the same breath as Radiohead, most people might expect it from Radiohead because they are like a maverick group, but for it to come from us was surprising.
Angel: So you're a fan of the Internet and open to where the music industry is heading?
Tim: We are really into new technology, we did 40 podcasts from one of our tours, I think we got to number two in the podcast chart. I did them with The Charlatans security guy Jim, we did an interview every night, then sent them off and people all over the world listened to them.
Illustration by Toby Whitebread
Angel: I know you've done previous projects involving mobile phones, tell us about that?
Tim: Yeah, I walked into one of our gigs and I got "You Cross My Path" on my ring tone so I had my very own song on my phone I was also very proud of that.
Angel: So were you one of the first bands to do that type of thing?
Tim: On a blue tooth box I believe we were the first band to do that at a live event, especially giving it away for free. I want to continue doing this type of thing where people can get free artwork, wallpaper, ring tones on their mobiles at our gigs, maybe have our whole back catalog available.
Angel: Do you see the music industry continuing to grow online?
Tim: I hope so, I like to live my life online, power to the people and to the artists that's what I'm all about.
For news about Tim Burgess's projects here
And information about The Charlatans here